27.5" HAVEN POWER WAVE | STEP-THRU E-BIKE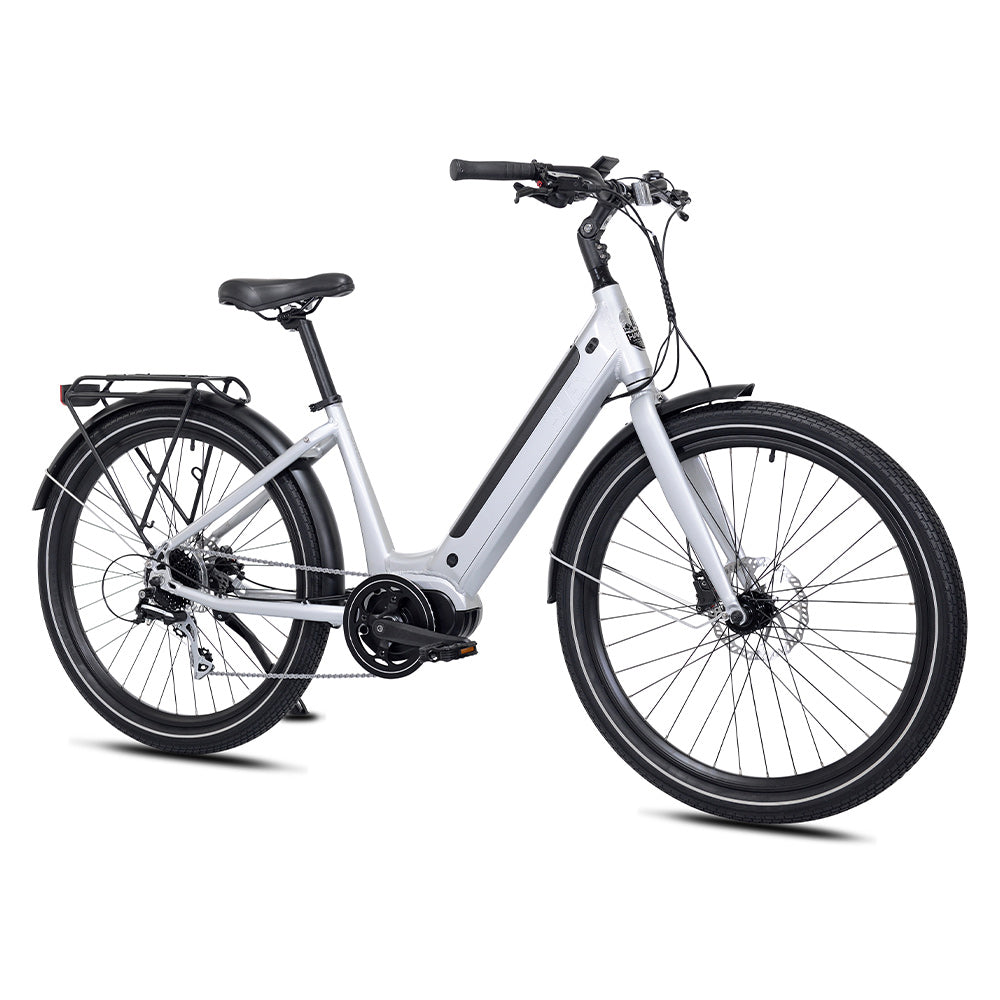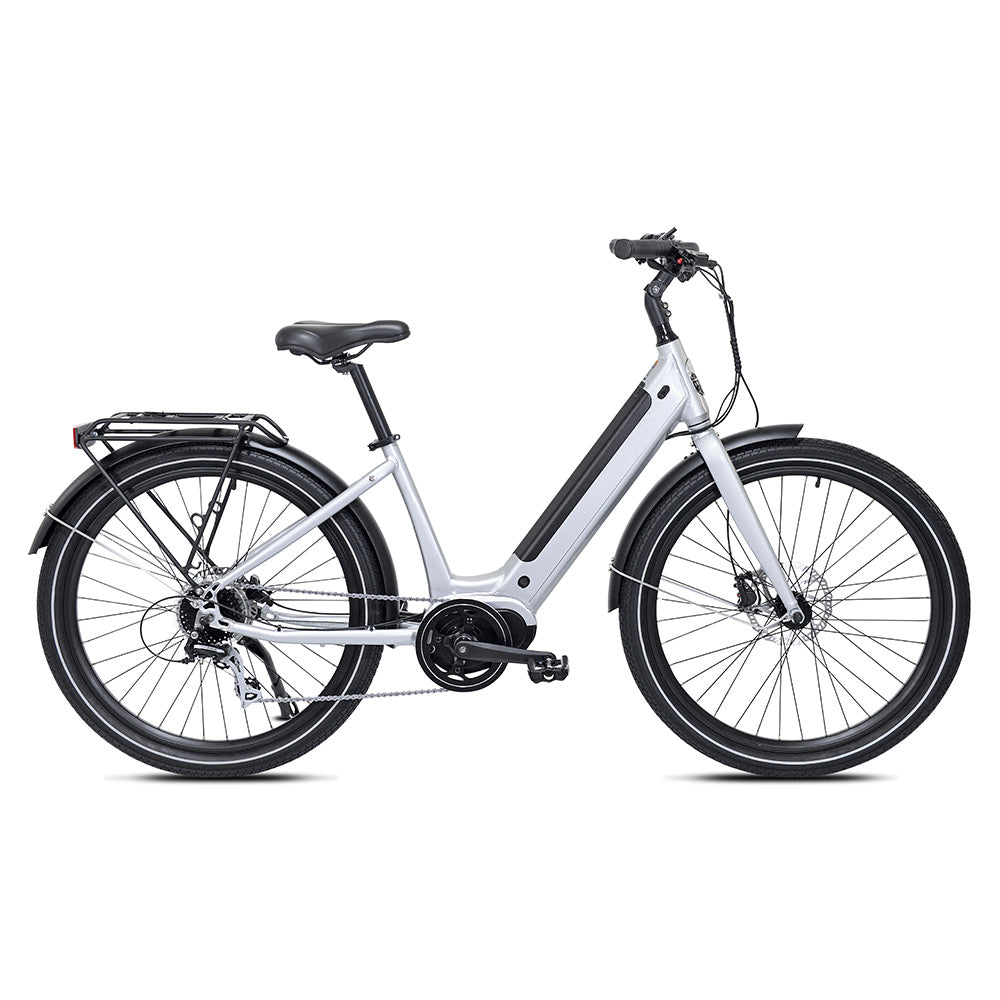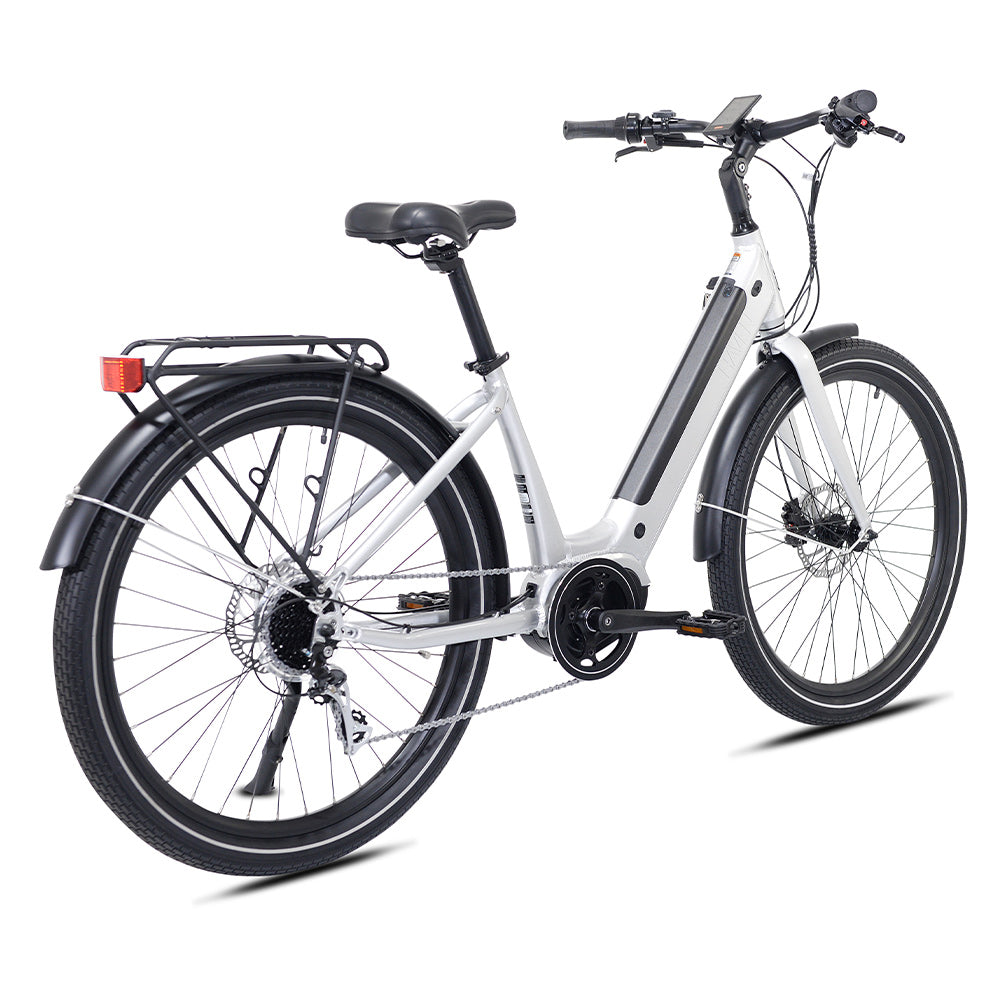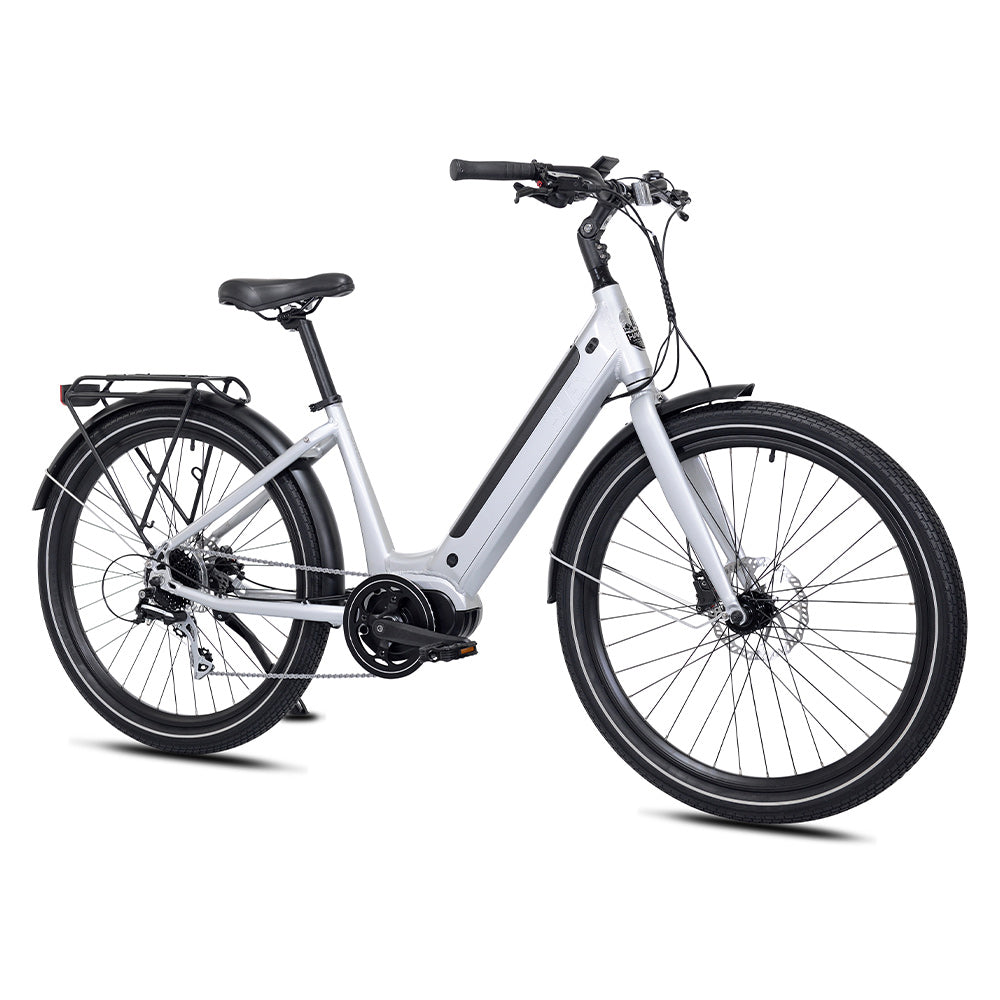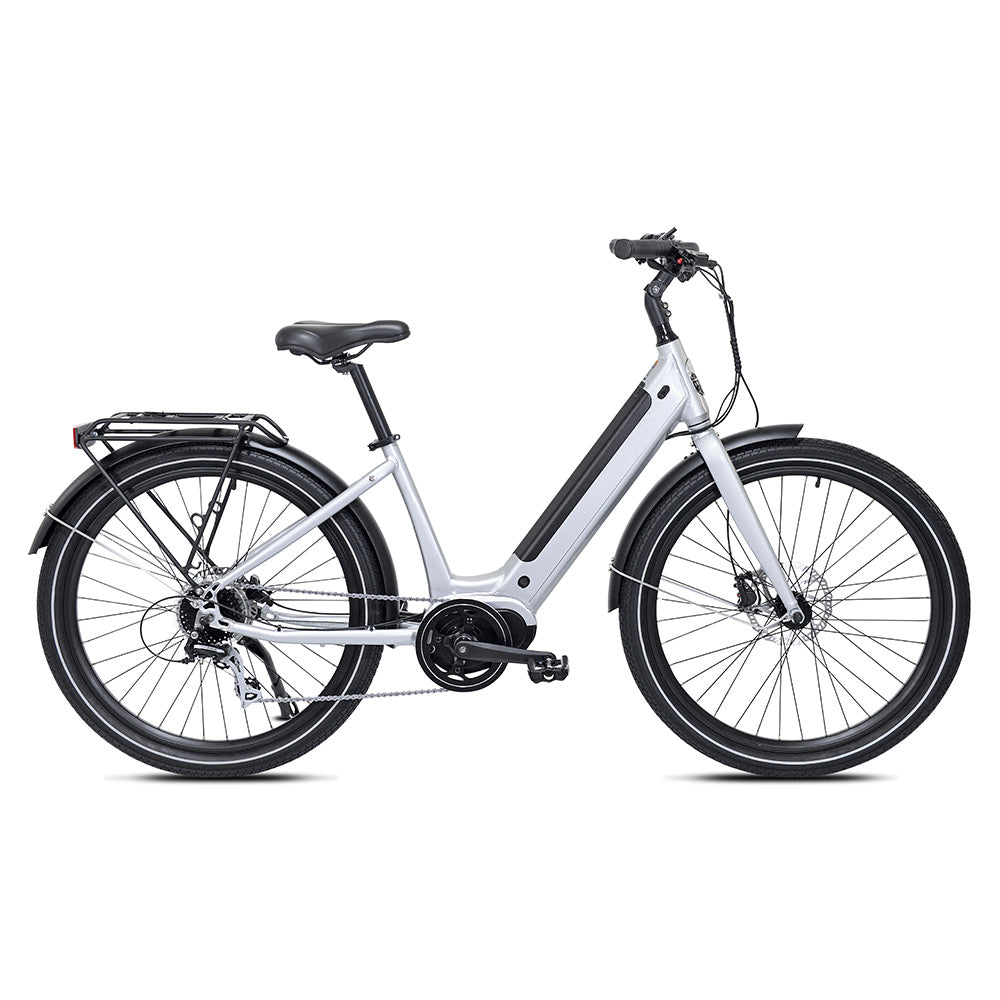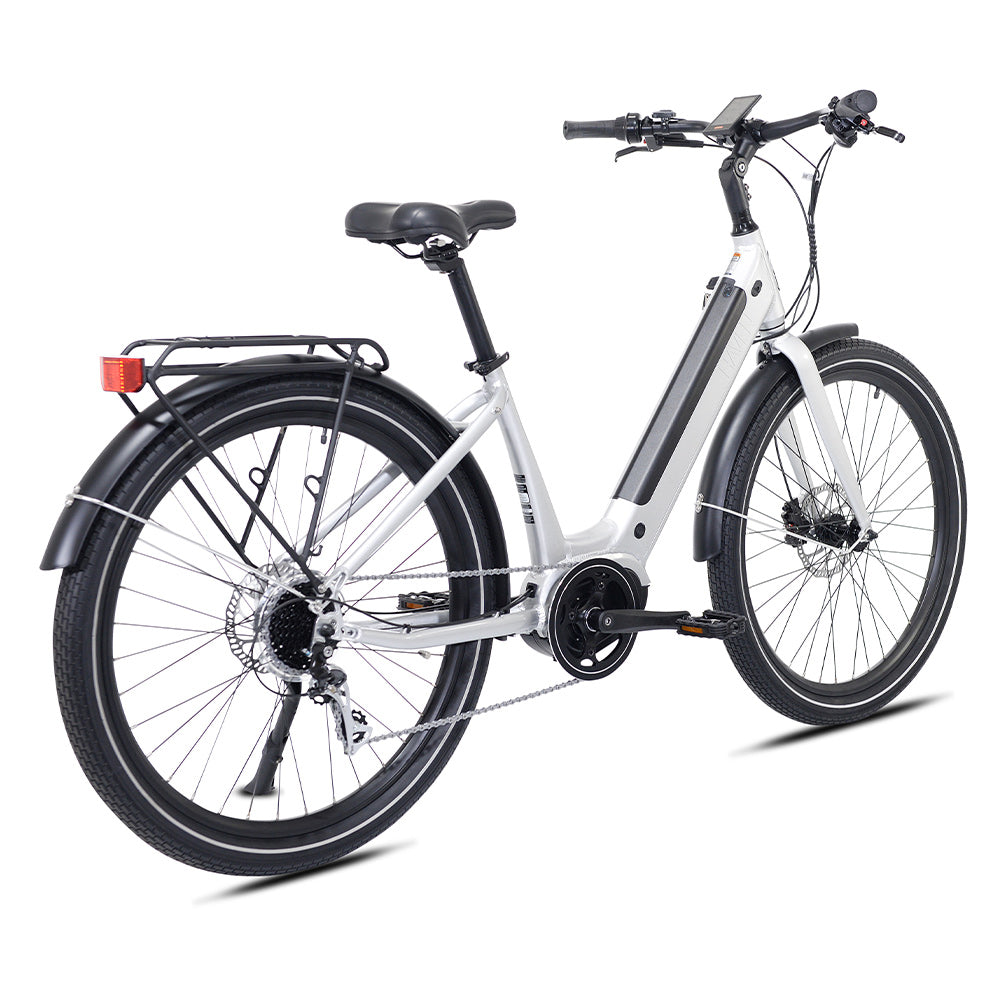 27.5" | 8 SPEED | ALUMINUM COMFORT
SMALL FRAME | 14.5"
MATTE SILVER FOG
#88808
MEDIUM FRAME | 17.5"
MATTE SILVER FOG
#88809
NOTE:
Some Power Wave models are labeled with "Power Flow" on the seat tube due to an error at the factory. However, the features, specifications, and pricing are all accurate for the Power Wave as outlined on this page.
A VERSATILE AND POWERFUL
ELECTRIC COMFORT MACHINE
Our top-of-the-line e-comfort bike. The Power Wave features a lightweight aluminum frame and fork, rear luggage rack, front and rear fenders and a versatile 8 speed drivetrain. The hydraulic disc brakes provide excellent stopping power. It's 250 Watt, 36V Mid-Drive Bafang motor will provide an extra power boost with higher effort pedaling, thanks to its intelligent drive unit. If you're the type of a person who wants the best, then this is the bike of your dreams.
ALLOY E-COMFORT
GEOMETRY
The lightweight aluminum frame & fork feature a relaxed geometry, making riding and pedaling easier for the rider. Rust resistant hardware keeps your bike in tip-top shape all year long.
EASY TRIGGER SHIFTING
Our simple and smooth shifters let you move through gears with ease and precision, all with the pull of a trigger.
ADJUSTABILITY
Tailor the ride fit specifically to your comfort levels by utilizing the fully adjustable stem and saddle.
8 SPEED DRIVETRAIN
An 8 speed rear derailleur gives you the gearing range you need, whether you're cruising down to the beach or taking a long ride with friends.
ENHANCED FEATURES
Smooth-rolling tires, mechanical disc brakes, front & rear fenders, rear rack, rust-resistant chain and a deluxe alloy kickstand are just some of the features that make this bike great.
ICONIC DESIGN
We know you'll love our bikes as much as we do, and we're very proud of the work we put into them. When you see our iconic lighthouse logo, you'll know you're getting a quality product.
LEARN MORE ABOUT
PEDAL ASSISTED POWER
250W MID-DRIVE MOTOR
The powerful Bafang 250 watt mid-drive motor that drives this bike provides 80Nm of torque and weighs just 8.6lbs. Cruise at a max speed of up to 20MPH.
INTEGRATED BATTERY
A Samsung cell 36V battery provides an impressive 11.6 AMP hours and will provide up to 40 miles of range. The down tube integrated battery can be charged while locked into place or easily removed with the included key.
ENHANCED CONTROLS
A handlebar-mounted deluxe LED control panel lets you see your charge status and flick through your power levels with ease.
WHAT DOES 'PEDAL ASSISTED' MEAN?
Pedal assisted means there's no throttle needed to provide an electric boost. Simply turn on the battery and control panel, choose your power level and start pedaling. Your bike will provide a boost whenever you're pedaling, and will cease the boost as soon as you stop.